It's no secret that I love Facebook advertising. Last spring, I entrusted my dating life to Facebook ads. And, this summer, I used a basic Facebook ad campaign to rent out my condo.
My rental property is walking distance to Arizona State University, so it's highly attractive to college students. In late June, my tenant informed me he was moving out. I had a small window to move in new tenants between him leaving in late July and school beginning in late August.
Here's how I found perfect renters in just five days with Facebook ads without spending a dime …
Ad creative. The obvious imagery for housing is a property sign or a swimming pool or, say, the house. I tried that approach. Meh.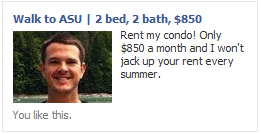 Studies have pointed to the effectiveness of smiling faces in ads. So, into my ad creative mix, I threw a face – my face.
I wanted to grab my renters' eye. And I wanted to differentiate against the corporate apartment complexes that were also targeting my audience. The call-to-action to "Rent my condo!" added an informal tone to the campaign.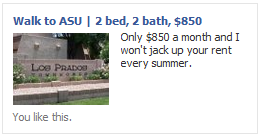 The results? Ads featuring my grinning mug drove 55.6% of the campaign's reach, 74.3% of its impressions, and 77.8% of clicks.
Ad targeting. The best thing about Facebook ads is the granularity of targeting options. Demographics. Interests. Geography. It's all there.
For this campaign, one ad group targeted those who lived within 10 miles of ASU. The other targeted all ASU students nationwide.
Why nationwide? I figured my targets might still identify as residents of their hometowns (for the same reason that college students don't get local driver's licenses and remain registered to vote back home). Plus, if they were home for summer break, they may need a rental when they returned.
The results? The nationwide ads drove 54.2% of reach, 73.5% of impressions, and 80.0% of clicks. And, most importantly, the combination of national targeting and my smiling face landed my renters.
Wait, didn't you say something about free? Yup!
The landing experience was free enough. I started a Facebook page for the condo and used basic features for customization. An album housed shots of the property. The cover photo was a Google map screenshot highlighting the short walk to ASU. (Check out the screenshot below.)
And the ads? Well, the ads were free too. Facebook wants you to take its platform for a test drive. It knows that its granular targeting and cheap clicks are addictive. And it wants to get you hooked so bad that it regularly offers up $50 and $100 ad credits.
Right now, you can get a $50 credit for Facebook ads by filling out a form and chatting with a Facebook rep. It's the perfect opportunity to play with Facebook ads for free. Have fun!