Here's to the crazy ones – the startup founders and their teams.
I respect the hell out of you. I don't envy you in the least.
I've been there. I was employee six at a software startup that grew to two dozen before we were acquired in 2013. I did the 12-hour days, the six-day weeks. I rode the rollercoaster of product launches, customer contracts, and investor checks.
I've been an independent marketing consultant for almost three years now. I used to think I'd go back to "do another one" someday. I even had an opportunity a few months ago to join one of our most promising startups.
It took me about 30 minutes to turn down the offer.
It's just not for me anymore. You people kray.
So, here's to the crazy ones.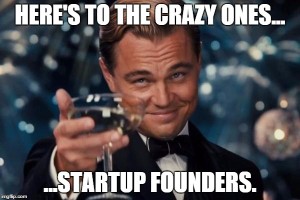 In the last few months, I've sat at a table with a startup founder who just couldn't find a way out of her biggest challenge. She was stuck. She threw her hands up. She didn't know what to do next.
Unfortunately, neither did I. All I could say was I'm sorry. I feel ya. I wish it wasn't the way it is.
Then, the moment passed and it was back to business, grinding to find the answer.
I've watched as another founder signed her first few customers, graduated from her MVP, and closed real funding. After two years of consulting with her, I felt pride in the success. But it wasn't my baby. In fact, the funding meant hiring and the hiring meant the consultant was replaced.
Good luck to you! I'm on to the next gig.
The lows are low. The highs are high.
For me? No thanks.
So, here's to the crazy ones.
When you're part of a founding team, there are no two-week's notices. No quitting when things get tough. No leaving early when someone else is working late. In a startup, nobody sits until everyone hits.
Besides, I'm not a visionary. I'm a builder. I don't have a dream. I want to help you reach yours.
So, here's to the crazy ones – the startup founders and their teams.
May you find the grinders, the customers, and the funding you need to reach for your dream. And, when you do, I'd love to help you reach for it. Part-time. From the outside. No strings attached.
Here's to the founders. Y'all are crazy. But that's my offer. So call me maybe. 🙂
** This post originally appeared on the PHX Startup Week blog. Join us every February! #yesphx **