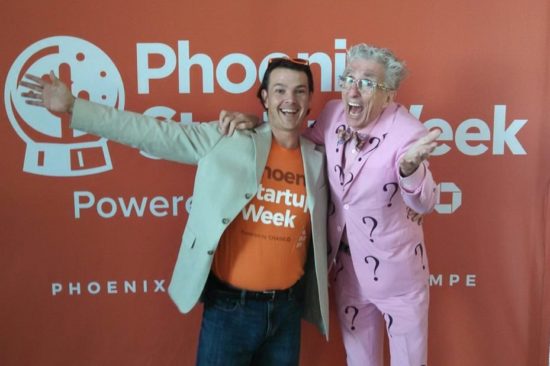 Ten weeks after wrapping the inaugural Phoenix Startup Week, more than 200 attendees – and a few noobs – gathered for a reunion over happy hour this month.
The reunion was not organized by the Startup Week steering committee. It was grassroots. Robert Backie, Matt Rowley, and Ryan Smith loved Startup Week so much that they ideated, planned, and executed the reunion themselves.
They'd never met before Startup Week.
Now that's powerful! No wonder people keep asking if we'll be back next year.
That's one of three questions Phoenix Startup Week organizers have heard more than any others in the 10 weeks since the big event. With an assist from our chairman Jonathan Cottrell, here are our answers:
1. Will Phoenix Startup Week happen again?
Yes! We've already locked in the week of February 22 for our return. As organizers, our focus will be on creating a repeatable, sustainable event that can outlive involvement from our current team, venues, and sponsors.
For attendees, it'll be bigger and better than before!
One of the unique parts of our startup landscape is that it's spread out across a sprawling metro area. In 2015, we took basecamp to the people, shifting from Phoenix to Scottsdale to Tempe and back again. In 2016, we'll spread even wider with new basecamp locations already secured in the west and southeast Valley.
2. How can we carry the momentum forward in the meantime?
Startup Week is just a week, but the momentum continues under the #yesphx banner – on Facebook, on Twitter, and over beers or cups of coffee across our region. We're using #yesphx to collaborate and to shift the narrative about Phoenix's startup scene.
Historically, we've focused on the challenges we have as a community, including lack of enthusiasm for entrepreneurism. Two-thousand Startup Week participants would argue that narrative is just plain wrong. Sure, there are some things that can be improved – and they are improving – but we use #yesphx to focus on the good. There's a lot of it!
3. How can I get involved?
Once everyone gets back from their summer vacations, we'll start planning our next Startup Week. We'll definitely need volunteers. It's all about inclusivity, so sign up for the email list and you'll be invited to the table.
Until then, get involved by communicating and giving to the ecosystem. Engage in the Facebook group and with the #yesphx hashtag. And give without the expectation of receiving anything in return.
As Jonathan says, let's embody generosity. Let's be the most generous and accessible community for entrepreneurship in the nation – giving of our time, help, advice, money, relationships, and whatever else we have to offer.
Let's grab a drink!
Two-hundred people at a startup happy hour is quite a turnout for the Valley. We hope to top that when we meet again on June 10. RSVP here to keep up to date.
We obviously love happy hours, but we don't want to supplant the many organizations already doing great work and putting on great events in Arizona. Instead, we want to funnel folks to organizations like Arizona Tech Council, Invest Southwest, and Startup Grind.
So check 'em out. And while you're out there, spread the word about #yesphx. Give your time to your fellow entrepreneurs. And let's all come back together for Startup Week in February to celebrate entrepreneurship in Arizona!