When it comes to digital marketing, there are huge benefits to being an early adopter.
First, there are cost efficiencies in new platforms due to lack of competition. Second, to borrow a real estate analogy from Tom Martin, those who move into a neighborhood before it's popular benefit most from any future popularity.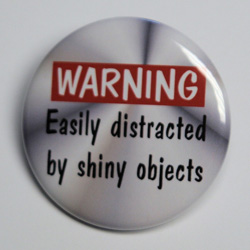 Of course, a preference toward early adoption can give way to shiny object syndrome. It can distract time and budget away from programs that are already proven.
That's why a dedicated digital R&D budget is so useful. By sequestering a portion of the overall digital budget for experimentation, the brand and agency are empowered to balance new initiatives with proven programs.
And it's as simple as documenting that, in the coming quarter or year, we will spend this amount on R&D. No more. No less.
Why does it matter? Here are three specific cases for a dedicated digital R&D budget.
1. Aggressive digital managers: Keep 'em blocking and tackling too.
Here, the digital function is managed by an early adopter or tech enthusiast. She reads industry publications, attends conferences, and plays with all the new toys. With these folks, budgeting permits some playtime with shiny objects while protecting the rest of the budget for proven digital tactics.
2. Conservative digital managers: Keep 'em out of their shells.
Here, we have a 'traditional' marketer managing the digital function (and perhaps several other functions). He relies on his agency to invest resources in research and pitch new ideas. A dedicated R&D budget lets him safely invest in innovation so opportunities aren't missed out of fear.
3. All managers in a recession: Keep 'em confident at the water cooler.
And finally, we have the resource-strapped manager with aversion to risk. The recession has left him and his peers under pressure to defend programs. Of course, ROI is hard to come by early in the R&D process. A budget protects him from sticking his neck out or going up the flagpole on every project.
By creating a dedicated budget for digital R&D, we can benefit equally from new technologies and proven programs regardless of our personality type. How do you create the freedom to experiment in your organization?