The holidays marked the halfway point of my nine-month Tempe Leadership program. It's been an amazing experience!
Unfamiliar with Tempe Leadership? Every year, 20 Tempeans are selected to develop their leadership skills, explore the inner workings of the city, and complete a community service project. As you'll see in the list below, the experience is quite varied.
Here are three things I've loved about Tempe Leadership so far: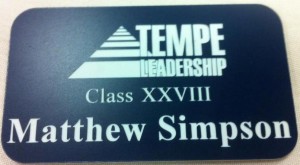 1. Watching the team form and perform.
A key component of the program is the class project. Twenty strangers must identify a community need, pitch the board, raise funds ($10,000 in our case), and do the actual work … all in nine months. That means forming, storming, norming, and performing fast.
Every class approaches this challenge differently. We split into four teams (renovations, fundraising, partnerships, and marketing), each of which defines and executes its own deliverables. Teams coordinate with one another through an executive committee. By dividing in this way, we each contribute from an area of strength while minimizing the size of meetings and email threads.
Learn about our class project Threads 4 Success.
2. Learning how other leaders lead.
Although I'm on the marketing team, I get to attend other teams' meetings. It's a great learning experience in two ways. First, as a fly on the wall, I quietly observe others' personal styles for contributing, interacting, and leading. Those styles are as varied as our occupations, which range from entrepreneurs to engineers to police lieutenants.
Second, I've been exposed to new skills. For example, our fundraiser (a holiday gift auction) was a huge undertaking. We raised over $7,000 in one night! I know little to nothing about putting on an event, so it was great to watch the fundraising team lock down all the details.
Oh, and don't get me started on observing and interacting with civic leaders like city manager Charlie Meyer, interim fire chief Greg Ruiz, and more. That'd be a whole other blog post!
3. Going hands-on with emergency responders.
What about the fun stuff? Tempe Leadership gives you a taste of some of the city's coolest jobs. I rode shotgun with a police officer on a busy Friday night, threw on firefighter gear and "rushed" up 60+ feet of stairs, and got behind-the-scenes tours of ASU, city government, and arts facilities.
I even let a 100-pound German shepherd take a bite out of crime by chomping down on my arm. It was a scary sight even with a protective sleeve on. I sprained two ribs and landed in physical therapy for two months, but it was totally worth it!
Don't forget to check out 3 things I loved about Tempe Leadership's second half. Wanna join Tempe Leadership? Let's chat over coffee. Email me!