"When you go fishing you can catch a lot of fish, or you can catch a big fish. You ever walk into a guy's den and see a picture of him standing next to 14 trout? No, he's holding a 3,000-pound marlin." ~ The Social Network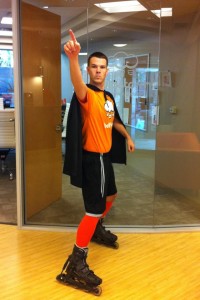 When I joined Bulbstorm in October 2009, I thought it was a short-term gig. I didn't think I'd be there for over three years. And I certainly didn't think I'd see the company acquired.
I was wrong on both accounts. Bulbstorm has been acquired by ePrize, itself a recent addition to private equity firm Catterton Partners' $2.5 billion empire. For me, the fishing trip is over. I think we hauled in a nice catch. I'm ready to sail new waters.
I like to think I played a key leadership role as Bulbstorm grew from six employees to over two dozen and grabbed the attention of MarketingProfs, MarketingSherpa, Mashable, PR Week, Social Media Examiner, and more. (See my resume for a formal overview of my contributions.)
It was a whirlwind. At times, it was hard to keep up. I sat in 10 different desks in three different buildings. Although we weren't really into titles (the sign on my office door read "social media douchebag"), I did cycle between four different email signatures.
I'm most proud of my contribution to the predictability and scalability of the business side of our company. At our holiday party in 2011, I received the Velcro Award for "leveraging a prickly side and a soft side to hold things together." I was immensely proud.
I can't reflect on my time at Bulbstorm without acknowledging my CEO Bart Steiner's tremendous impact on my professional growth. He's the most strategic, visionary, and practically brilliant person I've ever met. Serving at his side for 3 years was like earning a PHD in business.
For most of the last 3+ years, I've bled Bulbstorm orange. I wore it too. I rocked an orange hoodie at the office. I presented in an orange suit and faux alligator shoes. I served beers at BOLO in a cape, rollerblades, and knee-high orange socks.
Alas, it's time to find a new color. I'm grateful that I bled orange long enough to haul in our catch. Bulbstorm may not have been a 3,000-pound marlin. But it was enough trout to fuel my next voyage.